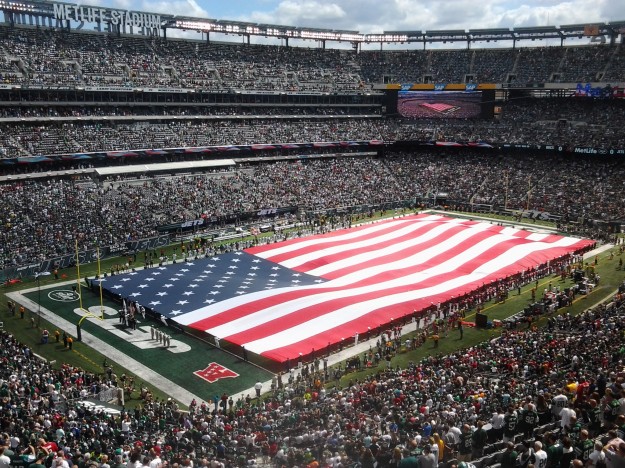 East Rutherford -As you all know by now, the Jets beat Tampa Bay 18-17. So how did Geno Smith do? Dan takes a very close look . . .
One of Geno Smith's best passes, was his first pass of the game, a 26-yard crossing route to Jeremy Kerley.
Smith did a nice job of taking advantage of a major mismatch – linebacker Mason Foster on Kerley.
This was an ideal scenery for Smith. The pass protection was awesome on this play, and he had all day to throw.
There is no question, that with time, he can make all the throws.
But the problem is he's not going to have this kind of time on every play, and while he did some very nice things today, he still needs to speed up his internal clock . . .
The Jets first drive ended on a couple of Wildcat plays that Geno Smith wasn't involved with.
The Jets second and third drives were three-and-outs.
On the second drive, Smith had a poor accuracy play, hitting Clyde Gates in the foot with a quick slant
One the third series, the Jets were inside their own ten, and Smith made a very good decision. It looked like the Jets were going to throw a wide receiver screen to the left side to Santonio Holmes, but the area was congested with defensive players, and Smith grounded the ball. I like the decision. It wasn't worth the risk.
On the Jets' fourth drive, which took place early in the second quarter, Smith and the Jets' offense finally got something going with a drive that resulted in a field goal.
The three keys plays on this drive – a 13-yard pass to Holmes, a 21-yard screen to Tommy Bohanon and a 13-yard scramble by Smith.
Kudos to Marty Mornhinweg on the 21-yard screen. This play, and on several other screens in the second half, the Jets OC made Tampa Bay pay for their blitzing approach. Screens are a great way to take advantage of blitzing teams . . .
On the Jets' next series, also in the second quarter, it lasted just one play, and disaster struck for the Jets.
Foster got by Vlad Ducasse on a blitz, and hit Smith, who fumbled and it was recovered by Tampa Bay, and they scored on the very next play.
While it's hard to blame Smith on this play, his blitz recognition still needs some work, and these kind of plays make you wonder about his small hands, which was a concern of some scouts. Small hands can often contribute to fumbles.
Smith threw a pick on the next series, and was sacked for a loss of 18 on the first play of the next series, but then he got in a rhythm hitting Konrald Reuland for a gain of eight, on the short left, Jeremy Kerley for a gain of eight over the middle (S Mark Barron had a 15-yard penalty for a hit on this play), and then few plays later, he got a lot of time on two plays in a row, and hit Winslow for a gain of 18 down the right seam, and for a seven-yard touchdown.
Smith had kind of a nondescript second half with a pair of field goal drives, including the final one, at the end, that was aided a great deal by a late hit.
Smith did a serviceable job today.
He still needs to get rid of the ball faster, but perhaps that will come in time.
The formula the Jets won with today is okay against pedestrian teams with inconsistent quarterbacks like Tampa Bay, but they will need more from the QB position Thursday against Tom Brady and New England . . .
I saw Quinton Coples after the game, and asked him when he thinks he will return.
"I can't talk right now," Coples said.
Hey, I tried.
For what it's worth, he didn't seem to be limping . . .
FB Lex Hilliard was in the locker room with a sling. He wrecked his shoulder this summer, and is on IR.
For what it's worth, Sanchez isn't using a sling.
He left the stadium with a big contraption on his right shoulder. If I was a doctor, I could tell you what it is.
He has a slightly torn labrum in his right shoulder.
As for his availability, I don't think he will be playing any football this month because not only did he suffer a slight labrum tear, but he dislocated his shoulder after the hit (and it had to be popped back into place) . . .
One problem with delivering ball late – as Geno Smith does too often – you are going to get some guys dinged.
Jeff Cumberland got crushed – big bandage on his chin after game.
Jeremy Kerley got leveled and had to leave the game temporarily, and gave up punt return duties.
And Stephen Hill slow to get up.
Late throws get guys hurt.
Also, this is a West Coast offense. A big part of it is leading targets and letting them run after catch. Late passes hurt this effort . . .
Damon Harrison had a terrific game today with six tackles, including one for a loss.
He went down late in the game with a leg injury, but from what I'm told it was just cramps, and he's fine . . .
September 8, 2013
Premium will return by 9:30 pm on Monday
---