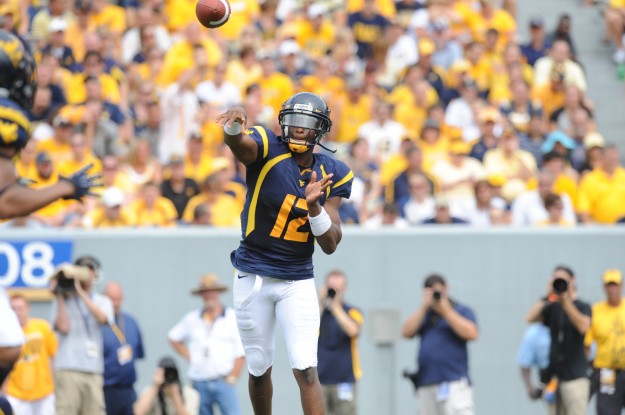 New Jersey – People were so quick to dismiss a very negative scouting report on quarterback Geno Smith before the draft.
Some were quick to push the race button.
But after the report came out today that Smith fired his agents because he slipped to the second round, you have to wonder if where there is smoke, there is fire.
But the reports don't stop at Smith just firing his agents for slipping out of the first round. According to a Daily News report, it went beyond that.
"The Daily News has learned that Smith thought that he would and should be the No. 1 overall pick in the draft. Sources told the News that Smith's agents from Select Sports Group gave him no assurance of his draft position," wrote Manish Mehta.
Wow, if that is true, the kid might be a little out of touch with reality.
Keep in mind, the writers reporting that Smith fired his agent over his precipitous drop, are likely getting that from the fired agents.
But Smith didn't help put the fire out with his explanation.
"I don't want to shed too much light on it," Smith said on Sirius XM. "The thing that I can tell you is that it's not because of the whole draft experience. It's not because of one particular incident. There's a number of things. And that story, that battle will be fought on a different day. As of right now, I don't feel too comfortable talking about all the details."
Okay, if you don't want to give us the details, which is certainly your right, most people will be inclined to side with the other side's explanation.
If Smith fired his agents for slipping in the draft, or even worse, for not going #1 overall, it makes you wonder a little about his mindset.
I'm telling you, Pro Football Weekly's Nolan Nawrocki isn't a hack. He has great sources. I used to do freelance work for Pro Football Weekly. I know a lot about what goes on over there. The guy is as workaholic with a lot of good sources.
"[Smith] needed to be coddled in college – cannot handle hard coaching," wrote Nawrocki. "He interviewed poorly at the combine. Not committed or focused. Has a marginal work ethic. He could drain energy from a QB room."
I just think it's childish for people to just dismiss Nawrocki's work like he's some kind of two-bit amateur.
I remember when he had JaMarcus Russell as a third round pick, people laughed at him. How'd that work out?
I'm not saying Smith is going to be a bust, but the Jets better keep a close eye on his attitude – a very close eye.
Think about it. If it's true he fired his agents for slipping in the draft, he might have an inflated self-value, so how will he deal with sitting for a year or two?
"One of his perceived weaknesses was working through adversity," a personnel executive told ESPN's Rich Cimini
But we should never lose site of the fact that he's 22.
I won't lie. I was pretty clueless at 22. I'm sure some of you were also. You think you have all the answers, but you have very few.
And so often people are so different at 22, compared, to say, 28, as they continue to progress through the game of life.
Also, I think David Garrard is going to be an amazing influence on Smith. Amazing.
Garrard is an awesome guy, a role model, who has seen so much in his life, and as a quarterback. He should help Smith a great deal.
But the bottom line is this – Smith dropped to the second round for reasons. I'm not saying the scouting community is perfect. Of course they make mistakes on prospects who slip in the draft, and then go on to shine.
However, considering what people like Nawrocki and Mike Mayock have said about Smith, and now this report surfacing that he fired his agents over slipping in the draft, the Jets need to keep close tabs on his mindset and attitude.
And not be dismissive of the red flags.
April 30, 2013
Premium will return on Wednesday by 9:30 pm.
---