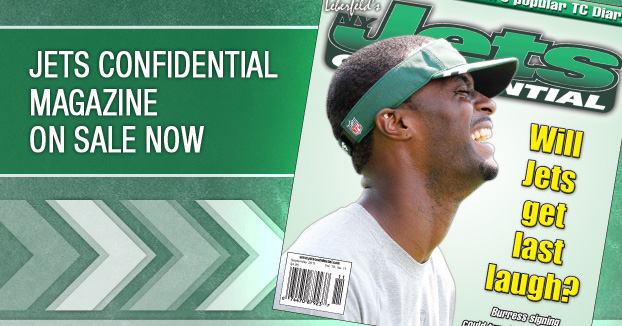 Dan Leberfeld breaks down Mark Sanchez performance against the Jints, play-by-play, and sees a player with a lot of talent who needs to play better . . .
Sanchez's performance, for the all-important third preseason game, the dress rehearsal, was underwhelming.
Things didn't start off well, and it wasn't Mark's fault. His first throw, a swing pass in the right flat to Shonn Green, was dropped. Greene has improved as a pass catcher, but still has a ways to go. On second down, Greene ran for five up the middle, and then on third down, Sanchez threw to Greene for a gain of one, and it was a three-and-out. What a non-descript possession – a run, and two dump passes. How about one throw to the myriad weapons in the passing game?
The second drive was a three-and-out also, including a second down pass to Plaxico Burress, on the short right side, that was way off target. These two have a lot of work to do to get on the same page, which is understandable.
The third drive wasn't a three-and-out, but it might as well have been for the passing offense. The first down was thanks to three runs by Greene. The second set of downs featured a three-yard scramble by Sanchez, and then a short out route to Holmes, on the left side, that hit him in the helmet as he was making his cut. Then on third down, Sanchez threw a pass to Burress on the short left side, and he honestly, he wasn't open.
The next drive, early in the second quarter, was another three-and-out. It started with another short checkdown to Greene, a short run by Greene, and then a third down pass, intended for Burress, was tipped at the line and fell incomplete.
On the next possession, the only reason it wasn't a three-and-out was an illegal use of the hands penalty on DT Linval Joseph. Two plays later, Sanchez fumbled and it was recovered by LB Clint Sintim.
On the next possession, the Jets took over on a short field after a long Antonio Cromartie kickoff return, starting on the Giants' 35, but needed fourth-and-one Keller reception (not a bad throw by Sanchez). After a nice eight-yard run by Greene, Sanchez hit Holmes on 17-yard TD in the middle of the end zone, off a play-action. The Keller and Sanchez throws were one-read passes, but they were his best throws of the night.
The Jets went hurry-up offense on the first drive of the second half, and Sanchez hit Holmes (20 yards), Derrick Mason (four yards) and Dustin Keller (gain of 10). But the drive ended a bad throw down the middle. Sanchez often struggles sustaining drives do to his inconsistent accuracy.
Sanchez needs to play a lot better in the Jets regular season opener against Dallas, but I think one things needs to considered about the Giants game. Big Blue has an outstanding pass rush, and there was no way Sanchez was going to let himself get in harms way in a preseason game, so that partly explains all the checkdowns, and perhaps why some throws (like the one that hit Holmes in the helmet) were thrown prematurely. Wayne Hunter was struggling with Justin Tuck, and Sanchez wasn't going to let Tuck, or anyone else bury him into the turf in a meaningless game.
Discretion is the better part of valor.
---