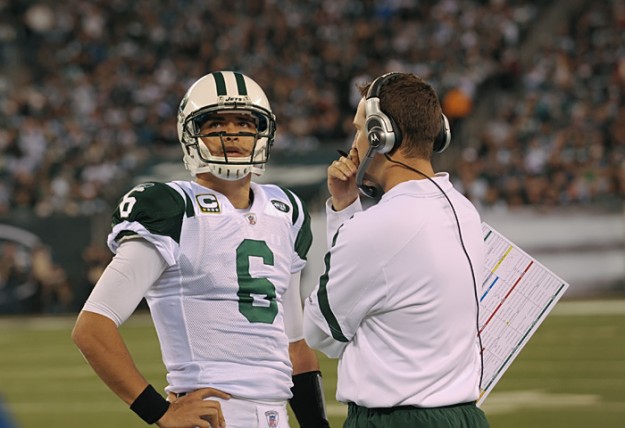 The game of chicken is over – Brian Schottenheimer stepped down and Tony Sparano will take over. We talk about this, and wrap-up over review of the defensive line . . .
As I mentioned yesterday, the second quarter didn't start off great for the Jets' defensive line in Miami.
After a Jets three-and-out on offense (there were way too many of those this year), the Dolphins took over early in the second quarter, and on their first play of that period, RB Steve Slaton went for 28 yards. This was the play where the fullback took care of Mo Wilkerson, and Slaton ran behind him.
Wilkerson did a bad job with his technique on this play. A whole off-season with Rex Ryan should help him get better with his hands. Ryan is an outstanding teacher of defensive linemen.
But as Mike Pettine said, "Mo has a chance to be special."
And it certainly looks that way.
While he was very inconsistent as a rookie, what do you expect? He's really young (came out of school early) and raw. He's extremely athletic for a 315-pounder with long arms. Wilkerson has everything you look for at the 3-4 end spot. His upside is huge.
After this rough start to that initial second quarter series, Mike DeVito took over.
On the next two plays, he made runs stop around the line – first on Slaton and then on Daniel Thomas.
DeVito is the kind of guy you want on your football team. With all the nonsense going on in the Jets locker room, he just goes about his business in a professional manner. He's not the greatest athlete, but he's a powerhouse who is extremely bright, and plays within himself. It's really cliché, but you want a locker room full of guys like DeVito.
Sione Pouha had another good game. On the first play of the Dolphins second drive, he stopped Daniel Thomas for a loss of two. On the Dolphins second play of the second half. Pouha stopped Thomas around the line.
While the Jets waste money on some big-name guys, they also need to take care of this guy. Not only does he make it near impossible to run up the middle on the Jets, he's one of the few leaders they have. He has tremendous character. He's a free agent and they need to take care of him.
On that record Dolphins drive in the third quarter (the most plays on a drive in Dolphins history – 21), Wilkerson had two nice plays. On the first play of the possession, he stopped Slaton for a loss of two. Then in the middle of the possession, he stopped Thomas on the line, on a run off left guard.
On a third-and-two, on the two, late in the game, Kenrick Elllis stopped Slaton after just a gain of one, and the Dolphins had to settle for the field goal.
This is a huge off-season for Ellis. I'm not a strength coach, but you just look at the guy, and you know he needs to be attached at the hip with Jets conditioning guru Bill Hughan this off-season. Once he gets stronger, redistributes the weight in his body, and improves his technique, this guy could turn into a real force for the Jets in the middle of the defensive line.  And the most important thing is – he really wants to be good.
I will have more on the Schotty situation later (by 7 pm, I have to hit the road right now), but it's good for this charade to finally be over. Anybody believed that Schotty was going to be back in 2012 was pretty naive.
I don't think Schotty is as bad as some people, but it was best for him to move on, for Brian's sake, and the team.
And I'm a big Tony Sparano fan. Aside from being a terrific football mind, he's going to give the offensive unit the tough love they need.  Tony is one of those Northeast guys from the neighborhood – you don't mess with him. He learned a lot from Bill Parcells, and takes a Parcells approach to coaching. He's the right guy at the right time.
---