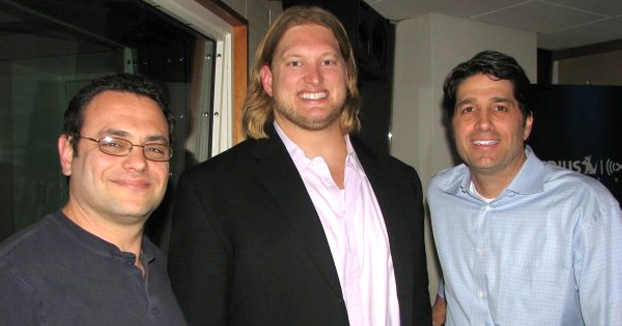 Sorry for the delay – got caught up in magazine work, and lost track of the time, but as Herman Edwards used to say, "No excuses, no explanations."
Let's pick things up late in the first half.
The Jets long penalty-laden possession took up over half the second quarter. That drive resulted in a field goal.
A Dolphins three-and-out followed this drive, and then the Jets had a three-and-out of their own.
The Jets screen game, which had improved so much this season, fell flat in this game.
A perfect example was on this three-and-out.
On second down, Sanchez attempted a screen to the right side to LaDainian Tomlinson.  Brandon Moore attempted to get out to the right side to lead the way, and as soon as he lef this man to pull, his man got right in Mark's face, messing up the throw, which fell incomplete. Also Moore didn't get out to the right flat very quickly, and that might be because he was playing with two sore hips.
The Jets got the ball back one more time in the half,. On first down, Sanchez was forced to scramble to the left side for a gain of two. This wasn't a designed run. What happened was OLB Cameron Wake beat Wayne Hunter, and Sanchez was running for life, so to speak.
Then on second down, Sanchez threw a pick to Randy Starks. Offensive linemen are taught to try to keep defensive lineman from getting their arms up to tip or pick passes, but obviously they didn't do a good job of this against Miami.
On to the third quarter – after the Dolphins opened the second half with a three-and-out, the Jets went on a drive that looked promising, but then fell apart.
One of the better plays on this drive was a run by LaDainian Tomlinson off right tackle for a gain of 11. This was the second play of the possession. Hunter did a nice job of locking up OLB Marvin Mitchell, and LT ran around him. This is what has to frustrate the heck out of the coaches about Hunter. Much like Mulligan, mixed in with the rough plays and penalties is some very good run blocking – he's a powerful man.
Another nice play on this drive was a 13-yard pass to Keller on the right side. The line did a nice job of providing protection on this play.
But two plays after the Keller catch, the possession fell apart when Mulligan was called for a facemask on first down. This put the Jets in a first-and-25, they couldn't overcome.
It's hard to overcome a first-and-25 when your quarterback is so into dinking-and-dunking vis-à-vis, checkdowns.
And that is what he did the next three plays, and the Jets punted.
As for Mulligan, it's highly unlikely he will be back next year. The Jets will have Jeff Cumberland (Achilles) back from IR, and they really like Josh Baker, and will look to re-sign Keller.
The Dolphins proceeded to go on their longest drive of their history, from a play standpoint – 21 plays, 94 yards and took up 12:29.
The Jets next two drives ended with interceptions on check downs.
The offensive line looked like they had their mojo back prior to the team's three game losing streak, but they were out of sorts down the stretch.
We will wrap up our look at blockers by Monday at noon.
---