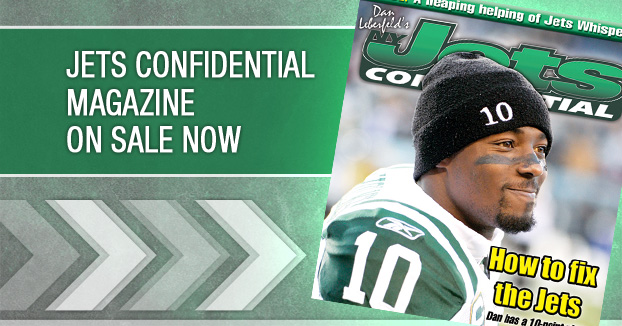 Here is Part I our in-depth analysis of some of the Jets quotes from Indy (and there were many) with a look at what Tony Richardson said, and what it meant . . .
Former Jets fullback Tony Richardson was asked about the unnamed Jets who ripped Mark Sanchez in the New York Daily News.
"It's easy to call someone out, especially in such a visible position as quarterback," Richardson said. "Unless you're 33-for-33 in every game, there's going to be some bad throws, there's going to be poorly managed situations."
This is a PC answer. There is no way Richardson is going to tell us what he truly thinks of the quarterback. Let's get real folks. So this was a "what did you expect him to say" answer.
His second quote, however, was more telling.
He was asked about the locker room issues from last season. Remember, the Jets didn't bring him back last season, and he retired.
"We had a lot of issues (in 2010)," Richardson said. "Especially the year before, we had a lot of issues. But we dealt with them."
So what is Richardson saying here? This one is easy. The Jets got rid of a bunch of the leaders from the 2010 season, like himself, Damien Woody, Brad Smith and Jerricho Cotchery, so some of the problems that were handled well in 2010, weren't handled at all in 2011, because the the locker room was devoid of leadership.
The departures of Smith and Cotchery really hurt the wide receiver room. Smith and Cotchery, two classy soft-spoken cats, had a good influence in the mercurial Santonio Holmes in 2010 – especially Cotchery.
This year, there was nobody, from a player perspective, to calm Holmes down, keep him from going off the deep end. Who was going to talk sense into him – youngsters Jeremy Kerley, Patrick Turner or Logan Payne? And it certainly wasn't going to be Plaxico Burress – he had enough to deal with.
Mike Tannenbaum had a rough year in 2011, and his handling of the wideouts is a perfect example. Re-signing Santonio Holmes to an exorbinant contract (which increased his already enormous sense of entitlement), and adding Derrick Mason and Plaxico Burress, might look good on paper, but from a team chemistry. leadership and locker room standpoint, it was a recipe for disaster. This ill-concieved plan imploded on the Jets.
And remember, before the New York Daily News article with unnamed Jets ripping Sanchez, there was the article a few months earlier, stating that Holmes, Mason and Burress went to Rex Ryan to complain about Brian Schottenheimer's game plans.
Do you think Cotchery or Smith would ever do that?
And considering how often these guys were running the wrong routes that certainly took a lot of nerve, assuming the story was accurate. How do you rip the coordinator when you don't even know the playbook?
The Jets categorically denied the story, but it's hard to believe nobody met with Ryan, and the NYDN whiffed entirely on the story.
My sense is that there was something to the report, but maybe it was one of the three, or two of the three, but it's hard to believe all three went to Rex.
Reading the tea-leaves, after interviewing all three players following the report – if I were a judge – here is my verdict – Holmes (guilty), Mason (hung-jury) and Burress (innocent).
Tannenbaum certainly wishes he had a mulligan for 2011, a year he purged leadership from his locker room.
We will continue our look at the quotes from this past week on Monday. There will be a premium story on Saturday night by 8 pm, but it won't deal with the quotes.
---