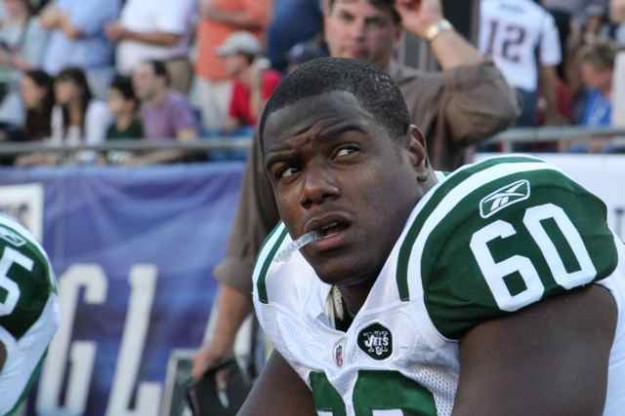 Let's wrap up the offensive line/blocking segment here with a few more notes from Miami, and a look ahead . . .
Early in the fourth quarter, on the pick by defensive lineman Randy Starks, while it was a bad pass, D'Brickashaw Ferguson needs to share some blame on this play.
Jason Taylor beat Ferguson off the edge, and was about to hit Sanchez as he threw, so he rushed it a little.
Clearly Taylor had a good feel for Ferguson's game after practicing against him all of last year in Florham Park.
Ferguson signed a six-year contract last year with $34.5 million in guaranteed money.
He should not be dominated like this by a 37-year-old retiring defensive end. And remember, not only did he beat him a few times, Taylor might him jump off-sides twice.
Ferguson didn't have a Pro Bowl Year, but that voting process is flawed.
Ferguson needs to step up his game next year.
The Jets' next drive ended in similar fashion. Sanchez threw an interception to linebacker Marvin Mitchell, filling in for Karlos Dansby, who was hurt early in the game. So the Jets' passing offense has become so predictable, even a back-up LB, with limited reps in practice, was all over their tendencies.
This pick essentially ended the game because it put the Dolphins in field goal range, and they went up 19-10. The Jets were on the Dolphins' 10 after "driving" down the field.
They were aided by 20 yards in penalties, including a ridiculous roughing the passer call on S Yeremiah Bell in the middle of the drive. If this penalty wasn't called, the possession would have been over because that flag came on a Sanchez incompletion to Jeremy Kerley on third-and nine.
The biggest play on this drive was a reverse to Kerley to the left side that gained 16 yards. Brick had a key block on this play.
Sanchez was dinking and dunking essentially that whole possession, and he dinked and dunked one too many times, and Mitchell picked off a pass on the short left side to Shonn Greene.
The Jets did have a nice scoring drive late to make it 19-17, but never go the ball back.
My final thoughts on the line for this season – no matter who the line coach is next year, 4/5ths of the line will come back in tact, and expect an open competition at right tackle. For now, the competitors would be Wayne Hunter, Vlad Ducasse and Austin Howard.
If Callahan leaves, it should be of his own volition. He didn't go from genius to unqualified in one year.
There is no question the line needs to play better, but Sanchez isn't an innocent bystander here. His pocket presence, which was pretty good his first two years, took a step back in 2011. Also, his indecisiveness, and holding the ball too long, put too much pressure on the line. As I have said before, Sanchez doesn't trust his eyes right now, and this makes him hold the ball too long if his first read isn't open.
I will say one thing in defense of Hunter and Ducasse. Having no off-season, where they were attached at the hip with Callahan, really hurt them. The lockout might have hurt offensive lineman, especially young ones, as much as any position.
Premium will return by 11 am on Tuesday with a look at the defensive line.
*An aside here – what is going on with Brian Schottenheimer is a game of chicken. Obviously the Jets aren't looking to bring him back, but they don't to eat his contract. They are looking for another team to hire him, and off-set some of the money. Or would love for him to re-sign, so they don't have to pay him at all, but that is a pipe dream.
---