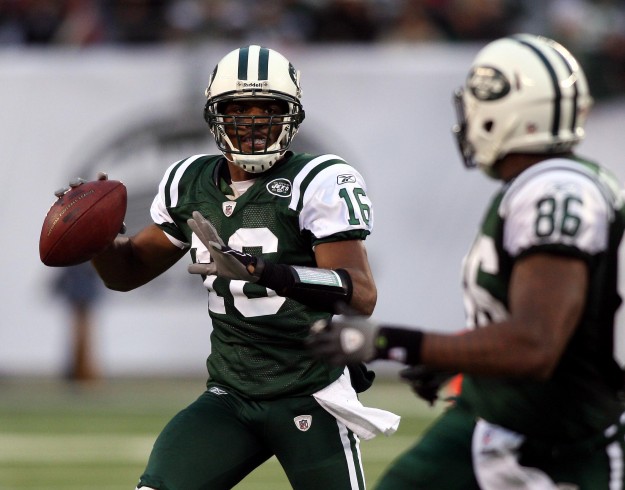 JC Magazine (the latest copy is on newstands now) has a popular feature where Rex's answers are followed by Dan Leberfeld's analysis. Here is a website version of that.
Q)What happened to the run defense in the first half against Pittsburgh? 
Ryan: It was brutal to watch.  It wasn't like we changed a whole lot of calls defensively, it was we changed the way we played.  I'm kind of at a loss for words on why we played that poorly.  You've got to give them credit.  (Rashard) Mendenhall made some great runs.  We had him hit in the backfield a number of times and he'd spin out for nine (or) 10 yards. It was uncharacteristic of our team. 
Leberfeld: Perhaps you shouldn't have changed any defensive calls, but you should have changed some defensive personnel.
Rex, your love affair with Trevor Pryce got in the way with sound judgment.  He was on the field way too much. Pryce will get you an occasional sack because he's really smart, and does a good job of jumping gaps, but he's not very good against the run. He's 35 playing with a bad hip. He also plays very high. Hey, I hate to rip the player. He's a heck of a guy. But Rex sometimes let's his heart get in the way of his decision making. Like I've said before, to have Trevor, Jason Taylor and Shaun Ellis on the field at the same time, against the run doesn't make any sense. Check out a replay of Mendenhall's 35-yard run and you will see what I'm talking about.
And keep in mind something else. Do you remember who the Jets cut to make room for Pryce? They released NT Howard Green, a very good run stuffer, who will be playing on Sunday for Green Bay in the Super Bowl. Green, whatever his weight, is a better run defender than Pryce.
Aside from Rex's love affair with certain players, another factor is Mike Tannenbaum, who is a very good GM, but tends to go with older stopgap measures a little too much. He does a terrific job of finding young talent. He needs to trust some of these players a little more.
There is nothing wrong with adding a veteran or two to get you over the top, but sometimes the Jets overdue it.
Nose tackle Matt Kroul and outside linebacker Jamaal Westerman would have done a better job against the run than the combo of Pryce and Taylor.
It's time for the Jets to get some of these young guys on the field, and stop with older stopgap measures.
And it's Rex and Mike's tendency to go with older players, that hurt the Jets in that first half debacle in Pittsburgh.
Q)Can players become immune to a coach's approach?
Ryan: I'm sure it can get old.  If a coach says one pitch, then I'm sure it would get old.  The good thing about the way I handle our team is that I'm just myself and I'll always be myself.  I don't throw one pitch.  Hopefully, I'll be around a long time and we'll win a bunch of Super Bowls.  One day when they tell me to leave, I hope they tell me to leave and to take (my) Super Bowl trophies with (me) (smiling).  I think my style is sustainable for a long time because every day is different. 
Leberfeld: I had a chance to interview Jim Fassel recently, and he said that after a while a coaches message because "white noise" to the players, and that is when it's time for a coaching change.
Rex isn't anywhere close to that point. And if there are any players that tired of his message, there are players all over the league that would do jump at the chance to play for him. The line would go down Park Avenue in Florham Park all the way to Highway 287. Players love playing for Rex, and his expiration date as Jets coach is way down the road.
The Jets have an outstanding working environment for players at their facility. Three meals a day, state of the art weight room and trainer's room and a consummate players coach in Rex.
---