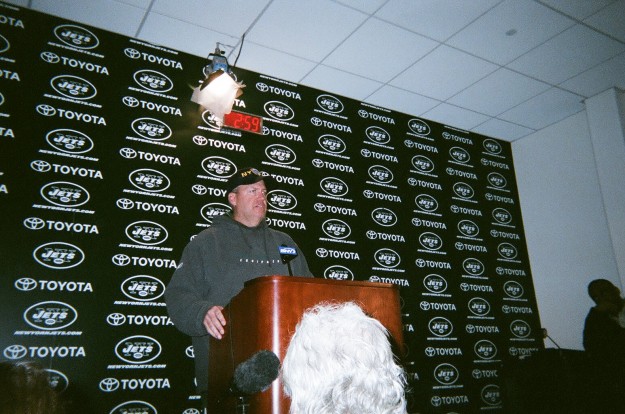 Q)Can you talk about the evolution of the offensive line this season . . .
Ryan: I think the big thing was getting (Nick) Mangold back healthy.  I think that was the biggest deal.  You figure you can replace a center, but a center at that level (is tough).  Mangold is the best in the league.  I think we all realize that now.  When we [didn't have] him for that stretch, obviously, we really missed him.
Q)Brodney Pool will replace Jim Leonhard in the starting lineup.What are your thoughts on Brodney?
Ryan: Here is a guy that started 12 games in the regular season last year (and) started all the postseason games.  This guy has played a lot of football.  He's familiar with our system.  Athletically, he's exactly what you look for.  He has size.  He has speed (and) range.  He's tough.  He'll hit. We're really fortunate that we have Brodney.
Q)How much has Shonn Greene improved over the last month?
Ryan: He's almost running like a bell cow now (smiling).  I think when he gets the carries, his game elevates.  It's that time of year when maybe some of the (smaller) backs are wearing down a little bit, (while) he's wearing down defensive guys.  I think that's always a good thing.
---