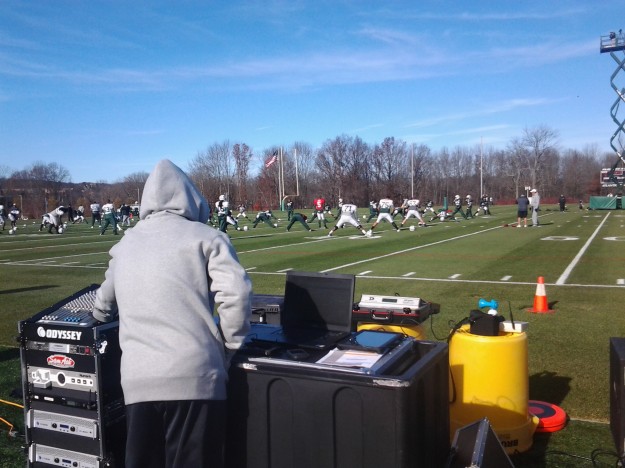 Eagles running back LeSean McCoy has some strong opinions on the Jets' quarterback situation, and there is nothing "Shady" about his take . . .
"Michael Vick is going to be the starting quarterback this year," McCoy told the Post. "He's way better than Geno Smith. Way better. That's no contest."
Good point.
But we are going to hear so much spin over the next few months, some of us might get vertigo.
"Geno is going to be hard to beat out," said Rex Ryan.
Not really. He's a developing quarterback coming off a season with just 12 touchdown passes, 21 picks (including five pick sixes).
I'm not trying to disrespecting Geno, but to say he's will "be hard to beat out," is preposterous.
"[Vick] will compete and push and try to do his best to make Geno the very best," said Marty Morhningweg. "When called upon, I know that Mike can go in and play at a high level."
'When called upon" should probably be Week One against Oakland.
It was refreshing for somebody on the outside to slap many of us upside the head with a dose of reality. Thank you, LeSean.
"As far as who's the better quarterback, he's way better than Geno Smith – that's obvious," said McCoy.
It is obvious. If the brass wants to play games and string us a long until the end of August that is their right.
But while others are going to go along with this game, I'm not going to.
The only reason Vick shouldn't start is if he gets hurt, which has been a problem in recent years.
"[Vick's health is] the big question, and that's the only thing," McCoy told the Post. "The thing here (in Philadelphia) was, he didn't lose his job. He just got hurt and lost his job to injury.
Vick has played in 128 career games. Smith has played in 16.
Vick has seen so much more, and has such a better NFL frame of reference than Smith. Frame of reference is very, very important at the quarterback position.
And Vick is the better leader at this point, which is SO important at the quarterback position, the most important position on any NFL team.
"He'll definitely be a leader in the locker room," McCoy told The Post. "Who smoothed over a lot of that Riley Cooper incident? Mike Vick, a great player who's been through some negative moments and is now positive about it. He's a great [veteran], and he'll help the team out in that way.
"To this day, I still talk to him and get advice from him on different things in my life. He's a great mentor for younger guys. A great mentor."
Smith is still a work-in-progress as a leader.. To cut him slack for last year, it's tough to lead when you are trying to figure out what the heck you are doing out there. Also, you need to establish yourself as a player before veterans will respect you as a leader.
I know a lot of people will find this hard to believe considering Vick's terrible indiscretion a few years ago involving pit bulls, but friends and teammates love this guy. Love him!
Smith is kind of a loner.
I've said it before, and I will say it again – if Vick is the Jets starter this year, we have not seen the last of Geno Smith. Taking a step back won't ruin him, and would probably help him. Sit back and learn like Aaron Rogers did early in his career. Smith could re-emerge better with a year to sit back and learn.
But thank you LeSean, for throwing a dose of reality on Spin City.
April 29, 2014
Premium will return by 9:30 pm on Wednesday.
---