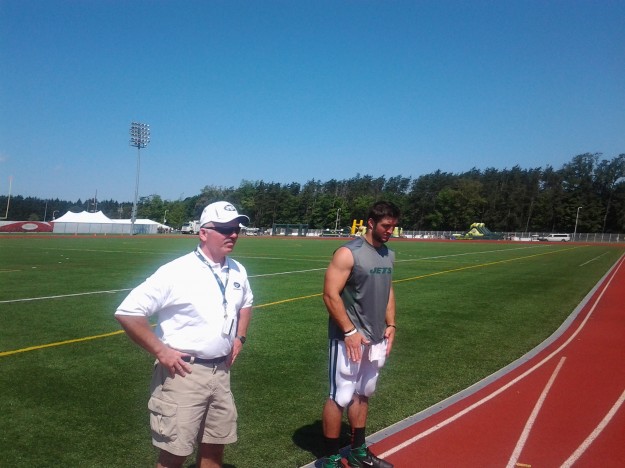 Stephen A. Smith "complimented" Tim Tebow.
Smith thinks Tebow is a wonderful human being.
"[Tebow's] cordiality and decency are beyond comprehension," wrote Smith on ESPN.com. "Apparently, so is the veneer of his soul. So much so that you find yourself wishing he played any position other than quarterback — simply so he would never have to throw the football.
"Except, Tim Tebow has had to throw the football. Quite often, as the New York Jets entered their fourth day of training camp. And while doing so — despite evidence that he knows how to win football games and is clearly in possession of an "it" factor few have been blessed with — all the former Florida All-American has done is force anyone with two eyes to echo unflattering sentiments in unison, no matter how much it pains them to do so:
"Jets backup QB Tim Tebow talks about training camp, his role with the Jets and the issues that come with being Tim Tebow.
"Tebow simply cannot throw the football.
"At least in the humble opinion of this scribe."
Smith's premise would be like saying – "Jon Bon Jovi, you're a great guy, but you can't sing."
Or somebody saying to Smith, "You are a great guy, but a lousy broadcaster and sportswriter."
What good is a compliment like that?
This column is a major slap in the face to Tebow.
And why Tebow would ever appear on this man's radio show is beyond me.
---