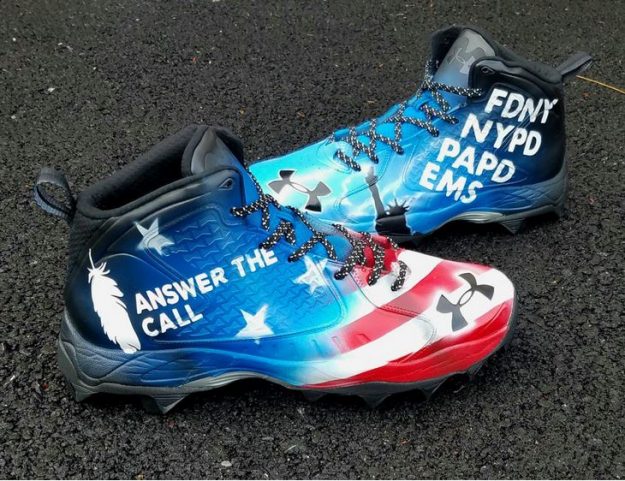 *New York Jets Military & Law Enforcement Team Liaison Steve Castleton was announced today as the Jets nominees for the "Salute to Service Award presented by USAA." The award, presented annually by USAA and the NFL, honors a league member who demonstrates an exemplary commitment to honoring and supporting the military community. USAA holds the designation of Official NFL Salute to Service Partner.
WHO: Steve Castleton, New York Jets Front Office Staff/Military & Law Enforcement Team Liaison
WHAT: Nominated for the tenth annual "Salute to Service Award presented by USAA"
WHEN: Finalists for the award are scheduled to be announced in January. The recipient will be recognized at the NFL Honors awards show, which is set to air the week of Super Bowl LV.
OTHER INFO: Past recipients of the award include Donnie Edwards (2019), Ben Garland (2018), Andre Roberts (2017), Dan Quinn (2016), Vincent Jackson (2015), Jared Allen (2014), John Harbaugh (2013), Charles Tillman (2012), and the late Tennessee Titans owner, K.S. "Bud" Adams, a WWII veteran (2011).
Steve Castleton – Award Nomination Bio
"Steve has been the Jets Military Liaison since 2013 where he first coordinated on-field and satellite activities at numerous military bases in Kandahar, Afghanistan and Bagram, Afghanistan for our U.S. Armed Forces and has coordinated all the pre-game and half-time activities for the Jets at both their Salute to Service and First Responder appreciation days – organizing the enlistment/re-enlistments of over 1,000 members of the armed forces at professional sporting events. Thanks to Steve in 2016 at Bagram Air Force Base in Afghanistan, the Army held the first "NY Sports Event" where a "sports field" was carved out of the Afghanistan soil and custom jerseys were sent. Since 2016, Steve has coordinated the "Turkey Bowl" flag football game which was held at Bagram Air Force Base in Afghanistan. In 2019 he organized the first annual Navy vs. Marines Flag Football game at the Jets Florham Park, NJ training facility. During the early stages of the COVID-19 Pandemic, Steve personally obtained and delivered SUV filled with personal protective equipment (PPE's) to the New York State Veterans Home and the Veterans Administration Hospital in Northport, New York on over 15 occasions. Coordinating the delivery with the Suffolk County Police Department, he personally funded #FeedOurHeroes, 8 Hospitals in 8 Days, which was an initiative of his to feed the front-line workers in 8 Long Island Hospitals in 8 days. Steve has also been sworn in as a Civilian Aide to the Secretary of the Army.
*Press Release
---