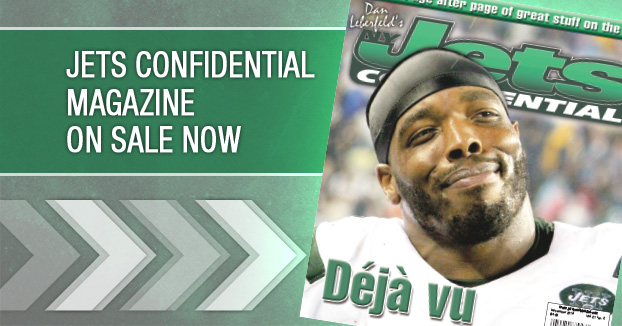 Rex Ryan is sticking with Dee Milliner as a starter. What is going on here? Is about the draft record? Is it Revis? What is it?
Well, first off, let's look at Milliner's body of work in the Cincinnati Bengals' game, before his benching late in the first half.
On the Bengals' first series, wide receiver Mo Sanu beat Milliner down the deep middle, but could not come down with the ball. Sanu had trouble tracking the ball over his left shoulder, but he beat Milliner soundly.
Also, on the Bengals' first series, wide receiver Marvin Jones beat Milliner for a nine-yard touchdown on the left side on a back shoulder throw that caught the cornerback off-guard.
On the Bengals' second drive, Marvin Jones beat Milliner over the middle for a gain of 30.
On a drive in the middle of the second quarter, Milliner was beat down the left sideline for a gain of 24 by Sanu. Two plays later, Andy Dalton hit Marvin Jones on a quick out on the short left play, and Milliner over ran the play, and Jones was off-to-the-races, for a gain of 45.
After this play, the plug was pulled.
Rex Ryan did the right thing pulling him at this point, from a developmental and psychological standpoint.
"There are two positions I think that are critical with confidence, you want your guy confident (and) you don't want the confidence ever broken, I think that's cornerback and quarterback," Ryan said. "I want him chomping at the bit to get back out there and then you purposely keep him back there.
"My dad did that historically with a guy named Mike Singletary and it worked out pretty well. When (Singletary) made a mistake, (my dad) benched him. He was sitting there the whole game saying, 'I'm ready to go back in.' (My dad) said, 'Nah, we're trying to win this game.'
"It's just one of those things and eventually he gets the thing where you never worry about benching him ever again."
That theory makes a lot of sense.
But the bottom line is that Milliner wasn't ready to start, and Jets rushed him into the starting lineup.
Don't forget, not only did he miss the entire spring (shoulder surgery), and a big chunk of the summer (holdout and then achilles injury), and then three weeks of games and practice due to a hamstring injury, but he came out of school as a junior.
So not only did he miss exceedingly important reps in the spring, summer and early in the season, but he didn't benefit from a senior season, under Nick Saban, and in the best football conference in the country – the SEC.
He shouldn't be starting. Darrin Walls can hold the fort.
But you have to remember, there are egos involved here.
Decision-makers want to be right about draft picks.
Look, I'm not saying he's a bust. It's way too early for that.
I think he will be solid. Not great, but solid.
But there is no way he should have started at the beginning of the season after missing so much time in the spring and summer, and there was no way he should have started immediately after his three week hamstring hiatus.
But there is a lot machismo involved here.
One of the things that makes Bill Belichick different is that he doesn't care where you were drafted, or how much you make, you aren't going to play until you are ready.
That doesn't go on most places.
Being right often trumps pragmatism.
/private]
October 30, 2013
Premium will return by 9:30 pm on Thursday
---