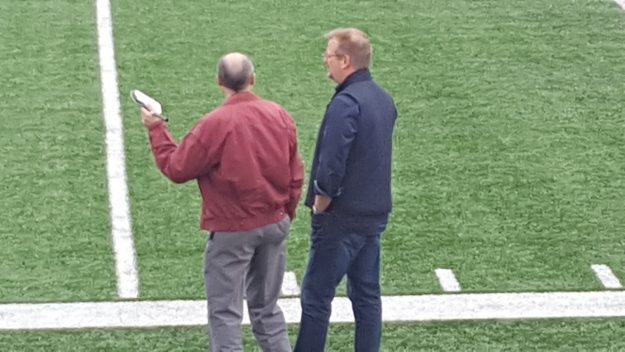 ESPN's Adam Schefter announced on Sunday Jets intend on hiring John Morton as their new offensive coordinator.
Morton spent the last two years as the New Orleans Saints WR coach. Prior to that, Morton was a part of a staff as wide receivers coach in San Francisco from 2011-14 that helped lead the 49ers to three appearances in the NFC Championship and a berth in Super Bowl XLVII. During his 49ers tenure, Morton's top pupils were Anquan Boldin and Michael Crabtree.
The wide receiver corps continued to make strides under Morton's supervision in 2014. Boldin led the 49ers in receptions (83) and receiving yards (1,062) and became just the fourth player in club history to have multiple 1,000-yard seasons with the 49ers and the first player to do so in his first two campaigns with the team. Crabtree finished second on the team with 68 receptions.
In 2013, Boldin set the franchise record for most receiving yards in a season-opener in his first game with the team after recording 208 yards vs. Green Bay. Boldin went on to register his sixth-career 1,000 yard season, his first since 2009. It marked the first time since 2002-03 that the 49ers had a 1,000 yard receiver in consecutive seasons.
In 2012, Crabtree became the first 49ers wide receiver to surpass the 1,000-yard mark since 2003, notching career highs in receptions (85), receiving yards (1,105) and touchdowns (nine). Under Morton's direction in 2011, Crabtree led the team with then career-highs in both receptions (72) and receiving yards (874), while adding four touchdowns.
Morton, 47, has spent the previous four years at the University of Southern California as the school's wide receivers coach. He also held the position of the Trojans passing game coordinator in 2007-08 and 2010, while serving as the school's offensive coordinator in 2009. Under Morton's tutelage, WR Damian Williams earned All-Pac-10 first team honors and, along with WR Patrick Turner, was a third round draft pick in the 2009 NFL Draft.
Prior to joining USC, Morton served at the passing game coordinator/offensive assistant with New Orleans in 2006, helping the Saints earn a berth in the NFC Championship game that season.
Morton worked under Harbaugh at the University of San Diego as the passing game/wide receivers coach in 2005. That year, QB Josh Johnson set school records in completions (260), completion percentage (70.1) and passing yards (3,256), while WR Adam Hannula set a school record in 73 receptions.
From 1997-04, Morton worked for the Oakland Raiders in several capacities and served alongside Harbaugh for two years (2002-03). He began in the Raiders personnel department and then worked as an offensive assistant working with the wide receivers for two years (1998-99). Morton then became the offensive quality control coach in 2000 and again worked with the wide receivers until 2001. He was then elevated to senior offensive assistant in 2002, when Oakland played in the Super Bowl, and was later names the team's tight ends coach in 2004.
Morton originally signed with Oakland as an undrafted rookie wide receiver in 1993, and spent part of the next two seasons (1993-94) on the Raiders practice squad. He also spent time with Green Bay in 1993 and was in training camp with the Jacksonville Jaguars in 1995. Morton returned to training camp with the Raiders again in 1996. He played for the CFL's Toronto Argonauts in 1995 and 1996, and later with the World League's Frankfurt Galaxy in the spring of 1997.
Morton played at Western Michigan for two seasons (1991-92), where he finished 10th on the school's all-time receiving list (78 receptions) and eighth in receiving yards (1,278), earning All-Mid-American Conference honors as a senior, in 1992. He later received a bachelor's degree in general studies from Western Michigan in 1997. Morton came to Western Michigan after two years (1989-90) at Grand Rapids (MI) Community College, where he received his associate's degree in 1990.
---