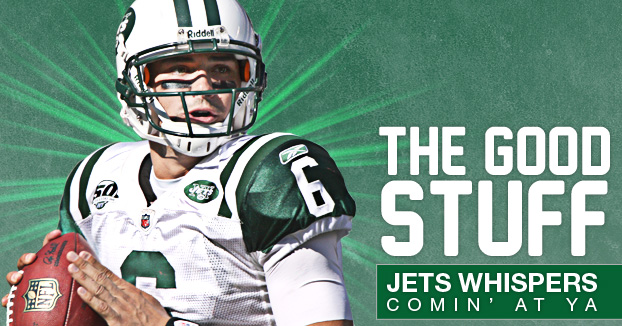 New Jersey – Dan checks in from the Garden State with a bunch of notes from One Jets Drive. Let's get it started. Sign up now! . . .
On Sunday, Ian Rapoport of the NFL Network tweeted, "QB Mark Sanchez has decided he plans to have surgery on his torn labrum after attempting to rehab. 4-6 month rehab process."
This was followed by reports from ESPN's Chris Mortensen, and others, stating that Sanchez hasn't decided to pull the trigger on surgery yet.
So what is going on here?
"If Sanchez was going to have surgery (now), he would have had it when he was at Dr. Andrews office on Monday," said a person very familiar with the situation.
And he didn't.
The bottom line is this – there is a very good chance Sanchez is going to have surgery, but he still hasn't categorically decided to do it yet . . .
I'm not doctor, but Stephen Hill (concussion) seemed to be doing pretty darn well today, four days after suffering the injury.
He was in very good spirits in the locker room, talking to a lot of people, smiling a lot.
Generally, when you have a bad concussion, you don't want to deal with humanity.
I will draw a comparison for you – after Clyde Gates suffered a concussion last year, he was walking around with sunglasses in the complex for weeks, due to a light sensitivity issue.
Wayne Chrebet has described the aftermath of a concussion as feeling like you are "hungover."
Hill seemed to be doing pretty well today.
I'm not saying he's going to play, but this definitely doesn't look like a long-term concussion.
But you know darn well Hill is going to push very hard to play in this game.
Guys love playing in their home town.
Hill is from the Atlanta-area.
Titans safety Michael Griffin was fined $21,000 for the helmet-to-helmet hit on Hill that caused the concussion . . .
Speaking of guys with Atlanta ties – you know this is a big game for Jets starting cornerback Darrin Walls. He was with the Falcons in 2011, but then they dumped him a year later.
Boy, did they make a mistake.
The Falcons' cornerback situation is a mess right now. They could use Walls. He'd probably be starting for them now.
Some in the New York media are on his butt right now for a couple of rough plays in Tennessee, but let's be honest, those were two amazing catches by Damien Williams (12-yard fade) and Justin Harper (touchdown). Perhaps Walls could have done more, but on both plays he had good position, and the receivers made highlight film catches.
He actually played well aside from those two plays.
Antonio Cromartie actually had the rougher game – he gave up two touchdown catches.
The media is way off base hammering Walls. The Jets have a lot of problems right now, and he's not one of them.
The Falcons wish they had never released him . . .
The Jets dodged a bullet. Actually they dodged a grenade.
During the fourth quarter of the Jets-Titans game, Derrick Morgan beat Austin Howard, and he hit Geno Smith as he threw. Smith fell to his left and landed on the back of D'Brickashaw Ferguson's knees. This was ugly to watch. This easily could have been a season-ending knee injury.
But Brick seems to be fine.
He looked like he was limping a little bit today, but he's not on the injury report, and seems to be good to go . . .
October 3, 2013
Premium will return by 9:30 pm on Friday
---