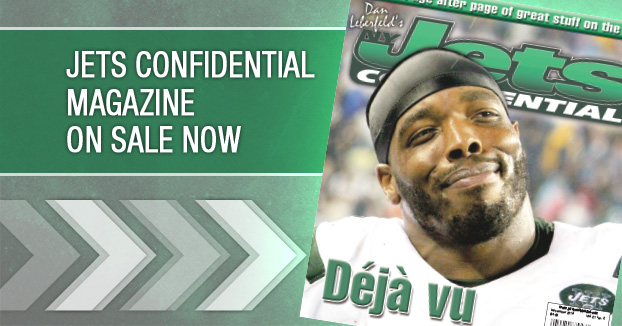 Florham Park – Dan checks in from the Atlantic Health Training Complex in Florham Park with some good stuff from behind the scenes . . .
New Jets wide receiver Greg Salas (knee) didn't catch any footballs today, but he didn't catch many medicine balls.
And this wasn't meant to be a joke.
He was working on a side field, with a trainer, with a medicine ball . . .
We wrote in the latest issue of Jets Confidential Magazine about how uncanny it is that so many players, who miss all or part of training camp, end up pulling a hamstring.
Dee Milliner and Santonio Holmes are two prime examples
Now you can add wide receiver David Nelson to the list.
He is limited in practice this week with a hamstring injury.
I saw a trainer doing some major work, from stretching standpoint, on his right leg.
Nelson was with the Cleveland Browns this summer during training camp, but didn't practice due to a knee injury, suffered in the spring.
So once again, a guy who missed training camp, pulled a hamstring upon returning to action . . .
Chris Ivory wants more playing time.
He made that clear on Monday.
And he's right. He should be getting the rock more. He's been impressive in his limited reps. He's a violent, downhill runner, who wastes little motion, a quintessential north-south runner.
But you can certainly understand why Marty Mornhinweg has been limiting him.
First off all, he's had an on-again, off-again hamstring issue.
Secondly, while Ivory takes offense at this notion when you bring it up to him – he's an inconsistent receiver.
As I was leaving the part of practice the media can watch, I turned to a running back drill (Brady Quinn was throwing to running backs circling out of the backfield), and Ivory dropped a pass right in his hands.
And we all know a big part of Mornhinweg's offense is throwing to the running backs.
I do think Ivory will play more this week, and I do think Mornhinweg will dial up some passes for him, and if he doesn't catch them, his role could be limited once again moving forward.
You know darn well Mornhinweg doesn't want a running back on the field who the other team thinks isn't a threat to catch the ball . . .
Being around the team this week, I sense that tight end Zach Sudfeld is going to have a big role.
He's now more comfortable with what the Jets are doing, he knows a lot about the Patriots' defense (faced them in practice when he was up there), and the Jets are thin at wide receiver, so they will likely throw more to the tight ends this week.
Also, Sudfeld has better speed than Konrad Reuland, so can create match-up problems.
Reuland is a 5.0 forty guy, and Sudfeld has run under 4.7.
And for some reason, Reuland and Geno Smith aren't on the same page – the two have had a number of misfires.
So expect to see a lot of Sudfeld this week.
For the uninitiated, he is a 6-7, 255-pound rookie free agent out of Nevada (Reno).
He made the Patriots this summer as an undrafted free agent.
The Patriots waived him on October 3. They wanted to move him to their practice squad. The Jets claimed him.
The Jets likely knew that Kellen Winslow was about to be suspended, so that is one of the reasons they claimed Sudfeld.
Also, they liked Sudfeld coming out of college . . .
Another guy I expect to be more involved is fullback Tommy Bohanon.
The Jets lost a tailback in this last game when Mike Goodson blew out his knee, playing defense after a Geno Smith pick in the red zone.
The Jets didn't add a running back to their active roster after this injury.
They still have Ivory, Powell and Alex Green, who they claimed off waivers from Green Bay before the opener.
And one reason they didn't add another tailback, is that Bohanon can run the ball.
I'm not saying you feature him, but he has running skills.
He had 50 rushing attempts at Wake Forest.
Whether it's as a runner or a receiver out of the backfield, don't be shocked if you see more Bohanon this week.
October 17, 2013
Premium will return by 9:30 pm on Friday.
---