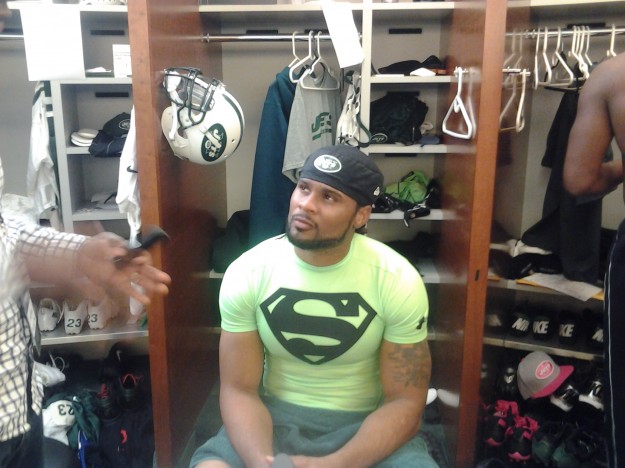 Madison – Time for some nuggets from Jets Camp in Florham Park, including items on injuries, penalties and more. Let's go . . .
For the second week in a row, the Jets will be facing a team without their #1 corner.
And as we all know, #1 corners are really hard to fine.
So when they go down, it creates quite a deficit.
The New England Patriots were without Aqib Talib against the Jets, and Geno Smith, Marty Mornhinweg and company went after the replacement, Kyle Arrington, like crazy, with much success.
This week they face a Cincinnati Bengal team without Leon Hall (former first round pick), who hurt his achillles last week against Detroit.
Hall is a terrific player, and also a great person, and when he went down last week, it seemed to really deflate the Bengals' secondary.
"I lost it," cornerback Terrence Newman said after he heard the news on the sideline that Hall blew out his achilles.
"When a guy gets hurt, particularly a good player like that, when a guy knows it looks to be a significant injury, it affects them a little bit," said Marvin Lewis. "That's why it's called professional football. You're paid to play, so get back to playing."
This is a really bad loss for the Bengals, and expect it to help the Jets.
"You can't replace somebody like Leon," safety Reggie Nelson said. "But somebody has to step up. One of our young dudes has to step up."
And that young dude is Dre Kirkpatrick, the team's #1 in 2012, who hasn't distinguished himself yet due to injuries and inconsistency.
"I feel like I'm ready," said Kirkpatrick. "I'm just trying to do the best job that I can to try to manage and not over-exaggerate and get over-emotional about being thrown in the fire. This is what I do. This is my job. I have to be ready."
And here is the thing – Hall would often go into the slot on obvious pass downs.
So having somebody else taking over that slot role, perhaps even safety Chris Crocker, could lead to another big day for Jeremy Kerley.
Kerley dominated Arrington last week.
So just like in the New England game, expect the Jets to make hay out of facing a team sans their #1 cornerback . . .
Konrad Reuland hurt his knee in practice on Wednesday.
He expects to play on Sunday.
He said there was no structural damage – just a hyper-extension (like Cro had a few weeks ago, but missed no time).
Reuland might not be a big part of the passing game, but he's an important special team's player. He's part of the wedge on kickoff returns, and serves other important roles.
He had a tremendous block, along the left sideline, on Josh Cribbs' (pictured above) 20-yard punt return against New England . .
The Jets' defensive line is having an excellent season, but the group does realize they need to cut down on pre-snap penalties, like neutral zone infractions.
That was a big problem against New England.
Defensive assistant Jeff Weeks brought out "football on a stick" to work with the pass rushers today.
Weeks barks out signals, for a long period of time, but the lineman can't move until he jerks the stick towards him, moving the ball.
And that is the key to avoiding pre-snap penalties on defense – ignore the quarterback's cadence, ignore the quarterback's gyrations – just look at the ball, and when it's snapped then you can start your job . . .
Playing in Cincinnati is always a big deal for Nick Mangold, who is from nearby Dayton.
Brian Winters is from Akron, which is on the other side of the state, but will have a lot of family at the game.
He said asked about facing Geno Atkins, and he said he looks like this as just another game.
We have to assume that is just for public consumption. He knows darn well he needs to play a lot better against Atkins, than he did against rookie Chris Jones, last week. Jones beat him for two sacks . ..
October 24, 2013
Premium will return by 9:30 pm on Friday
---