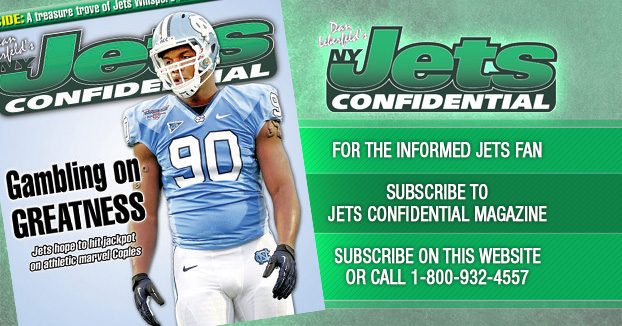 The New York Jets are probably getting the Pittsburgh Steelers at the right time. They are scheduled to play them in Week Two.
The Steelers made a lot of changes this off-season, so things could be ugly for them early in the year.
They decided now was the time to get younger. Gone are long-time stalwarts, like LB James Farrior, DE Aaron Smith and WR Hines Ward.
Those are three excellent players/leaders who have contributed so much for such a long time in the Steel City.
They will all be missed.
They also released long-time starting guard Chris Kemoatu and nose tackle Chris Hoke retired.
So five key players gone in one fell swoop.
The Steelers are also installing a new offense under the guidance of former Jets assistant, and Kansas City Chiefs head coach Todd Haley (Dick's son). The Steelers were in the old offense of Bruce Arians (now with the Indianapolis Colts) for the last five years, and were very comfortable in it.
Quarterback Ben Roethlisberger wasn't thrilled with the decision to move on from Arians, and hire Haley. He was very, very comfortable with Arians playbook and playcalling.
Early in the season, probably just like with the Jets, the Steelers will still be getting comfortable with their new offensive playbook.
And not helping matters is the departure of Ward, along with the holdout of the team's #1 wide receiver, Mike Wallace. He missed the entire off-season program and the installation of the new playbook. Wallace has fallen way behind.
On top of the new offensive system, the Steelers will also be working in two rookie starters on their line – first round pick David DeCastro at right guard, and second round pick Mike Adams at left tackle.
They are also moving long-time tackle, Willie Colon, inside to left guard.
In time, this Steeler line should be very good, but early in the year, they will have a lot of guys learning on the job, and the Jets talented Front Seven, coupled with the creativive schemes of Rex Ryan, should be able to really take advantage of this re-worked group.
In time, DeCastro should be a Pro Bowl fixture. He's the best guard prospect perhaps since Steve Hutchinson.
Adams (6-7, 323 pounds) could be special if he gets his head screwed on straight (he had a number off-the-field issues in college). He's a massive man with quick feet, long arms and good athletic ability.
DeCastro seems like the kind of guy who should be terrific immediately, but Adams is more of a project, and look for the Jets to really test him.
Overall, this Steelers draft could be special.
Keep an eye on fourth round pick Alameda Ta'amu. This guy should be a major steal where he was picked. He is the perfect heir apparent, and platoon partner, for nose tackle Casey Hampton. Like Hampton, Ta'amua is a massive, immovable object in the middle of the line.
The Steeler probably did the right thing deciding to get younger this off-season, but early in the year, they could struggle, so the Jets are going to Heinz Field at a good time.
July 5, 2012
(Premium will return on Friday by 9:30 pm.)
---