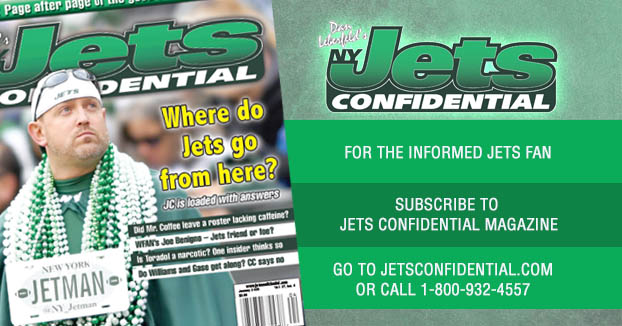 The Jets' mystery personnel man gave an exclusive interview.
Talking about Phil Savage, who was hired last June by GM Joe Douglas as a "senior advisor," and granted an exclusive interview last week to Ethan Greenberg of the Jets' website.
His exact role is unclear, but he's certainly a valuable sounding board for Douglas. Savage was the Cleveland Browns' GM from 2005-08, and was also a GM in the Alliance of American Football, so he certainly can help the Jets' relatively new GM learn the whys and wherefores of the position.
"I think as a staff, there's been a lot of coalescing so to speak around Joe D and the Jets," Savage told newyorkjets.com. "I would think we're going to do very well. It'll be a common sense approach, very steady, and that's really what you want in player personnel."
Savage and Douglas worked together in the Baltimore Ravens' personnel department from 1996-2004.  He was a big help to Douglas and the Jets' personnel staff at last week's Senior Bowl, a game that he ran from 2013-18. The Jets took a pragmatic approach of not forcing all their scouts to try to look at every player on the field, at the same time, at the practices.
"Each of our scouts has certain positions they're responsible for," Savage said. "Definitely in a venue like this, you can feel like your eyes are going all over the place and you don't see anything. But we've tried to be specific with the assignments with Jon Carr, our college scouting director, and Rex [Hogan, assistant GM] leading the charge there, divvying up the work. We feel like we've gotten good coverage in that regard."
And while the Senior Bowl is important, Savage knows it's just one piece of the scouting puzzle.
"It's a piece to the puzzle but it can't be the biggest piece to the puzzle," Savage said. "Certain players will come here and excel that maybe didn't play as well during the fall or vice versa. And then you get to the Combine and maybe they don't run as fast as you hoped they would. The easy players to evaluate are the ones you see in the fall, then you see them at the Senior Bowl, then you see them at the Combine and it all lines up."
And Savage is going to help Douglas line things up, whatever his role and location might be.
***********************************************************************
Don't forget to subsribe to the monthly Jets Confidential Magazine. The new issue is on news stands now. A must-read for Jets fans. A great gift for Jets fans. To subscribe, click below, or call 1-800-932-4557 (M-F, 9-5). You don't want to miss it. So much stuff about Gang Green you won't read anywhere else.
---