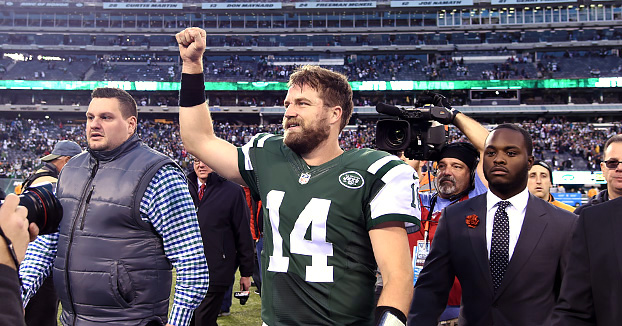 Florham Park – In the long run, this story will be a fly speck in the ocean, pretty darn insignificant.
But for early June, "Boycott-gate" qualifies as an interesting story.
Did Eric Decker and Brandon Marshall miss (voluntary) practices last week to show solidarity with unsigned QB Ryan Fitzpatrick?
Last week, the New York Post reported that Decker's absence was done as a statement, a show of support for Fitzpatrick.
Nobody was as definitive in their reporting about Marshall.
Decker and Marshall are back to work this week, and addressed the media today about their absences.
Marshall was asked repeatedly if he was making a statement by his absence, and didn't give a straight answer to the myriad queries. And when he overheard a reporter in the scrum speculating on what he might have meant, he calmly said, "Don't put words in my mouth."
Decker said he was on vacation with his family last week and wasn't boycotting.
"That's not why I wasn't here," Decker said.
Todd Bowles doesn't think the players' absences last week were a political statement.
"I knew they were going to be gone last week," Bowles said. "I talked to them and knew they were going to miss last week."
So there you have it.
We report, you decide.
---