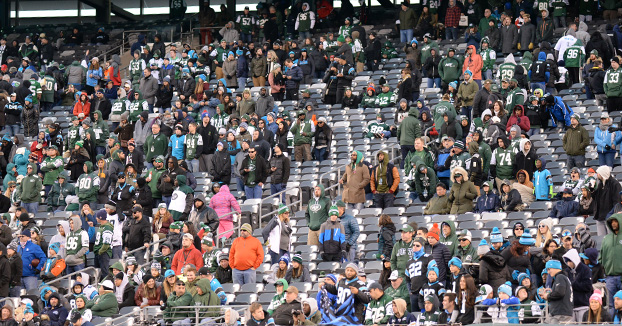 The Jets haven't had an ideal home-field advantage this year.
During the Jets' recent loss to Carolina, you could hear a loud chant of "Luke" coming from the crowd every time Panthers star linebacker Luke Kuechly made a play. There were a ton of Panther fans in attendance.
There were also a lot of empty seats.
Look, by saying the Jets haven't had much of a home-field advantage this year, that isn't a shot at the Jets' fans in attendance. They are doing the best they can to cheer on their team, but when there is a mixed crowd, and a lot of empty seats, there is only so much they can do.
I was talking to a long-time New York sportswriter about the crowd, and he made an interesting point. He feels one reason for the poor attendance were all the stories in the off-season about the Jets "tanking" the 2017 season to get a high draft pick.
Those stories were false, but the damage was done.
Why would you buy tickets to see a team that was reportedly "tanking?"
Wouldn't that be a waste of money?
So the lies about the Jets "tanking" perhaps hurt the Jets' tickets sales in the spring and summer.
Interesting take.
---