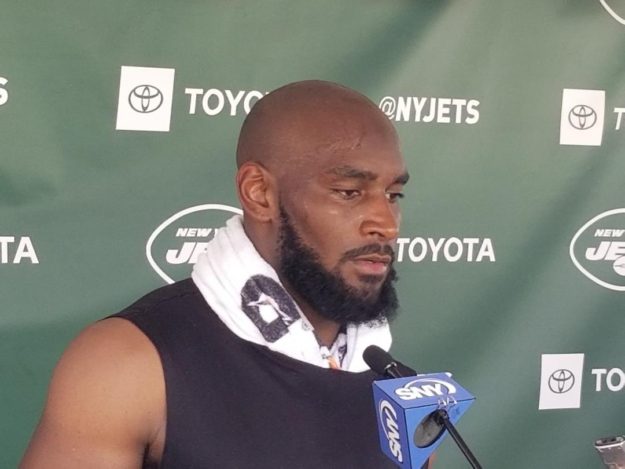 Florham Park – He's a very important addition to the Jets, and they need him to be healthy for the season.
Talking about Jets slot receiver Jamison Crowder.
The Jets had a scare on Monday when he left practice with a foot injury.
Today, he caught a pass over the short middle and got popped by linebacker Avery Williamson.
On July 28, he took two big hits from nickel back Brian Poole in practice.
Here is the deal folks:
The guy is a heck of a player, and very tough, but he's 5-8, 177 pounds, so he's not a big guy, and he's taken some pretty significant friendly fire in practice so far.
And not only is he working as a slot receiver (and having a terrific camp), but is also returning punts. This Jets need this cat to stay healthy. He's a very valuable player for them.
I asked Crowder today about taking big hits in practice and he said it's "good and bad."
That is exactly right. His defensive teammates need to get ready for the season, but he also needs to be protected a little more.
Remember, last year he struggled with injuries in Washington and missed seven games.
The bottom line is he's taking too many big hits from teammates in practice so far. He's kind of taken a beating this summer already with the foot injury and the big hits.
The Jets might need to pull back his workload a little in camp, and perhaps give him a few days off (which many teams do with veteran players in training camp).
**************************************************************
To subscribe to the monthly Jets Confidential Magazine, click below, or call 1-800-932-4557 (M-F, 9-5). A subscription makes a great birthday gift for a Jets fan.
---