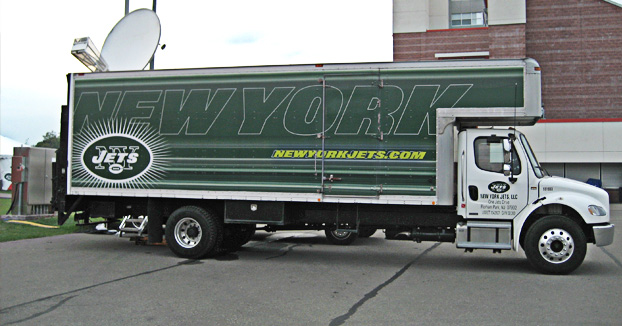 It's hard to criticize the Jets, in almost anyway, for their decision this week to cut the prices of around 12,000 tickets.
But there is one small element of this story that deserves a modicum of critical analysis.
And what is that?
The spin regarding the decision; that it had nothing to do with sellouts or blackouts.
"Sellouts are not a concern for the Jets in the 82,500-seat stadium," wrote the AP's Barry Wilner, who was given the story by the Jets, along with Bloomberg. The team decided to give it to the wire services, instead of having to deal with a myriad of football beat writers. They felt it was a business story, not a football story.
That line from Wilner's story was given to him by the Jets.
Along with Glat saying, ""This was not an issue about worrying about getting games on TV. But what is the right price for the value for the fans. And there's really an emphasis in the NFL on season ticket holders, the lifeblood of the league."
Some are viewing this as spin.
"Two weeks ago, Jets owner Woody Johnson addressed rumors of lagging ticket sales by saying, 'I don't want to be Joe Namath, but I guarantee we'll be sold out.' To make it happen, they're slashing ticket prices . . . This is what happens when a team finishes 8-8 in a rough economy." – Rich Cimini, ESPN New York.
I have to agree with Cimini on this.
It's really hard to fathom that the Jets made this move (which was the right thing to do) simply as a goodwill gesture.
How many people, in any line of business, cut prices, exclusively based on it being the right thing to do?
That is rare.
When I first heard about this decision, my first thought was, "What a great move by the team. This is exactly what they should do with those tickets. You can't expect people to be plucking down that kind of money for nose bleed seats."
But then I finally had a chance to read the story, from Wilner (I've known him forever – a true pro), my reaction was, "Why are they spinning it this way?" It's unnecessary.
Just say, "It is the right thing to do," and leave it at that.
Clearly, what Glat was attempting to do, was save face for his boss, and the others who had guaranteed sellouts, a few weeks before this move.
But how many of you believe this was done strictly from the goodness of their hearts?
Like I said yesterday, there is no doubt they could have figured out creative ways to sell out every game, but instead of jumping through hoops, it's much easier to just reduce the ticket prices, and sell the building out.
So Glat made a bold strategic move to slash the prices of the worst seats. I'd be shocked if those seats don't sell out now.
But to me this was a business decision, and a good one at that.
June 23, 2012
(Premium will return by 9 pm on Sunday night.)
---