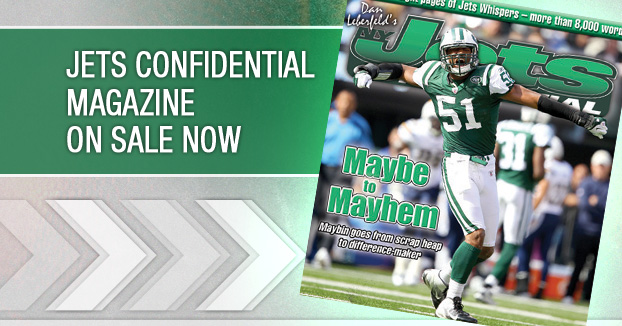 Florham Park area – Dan checks in from Jets country with another addition of Website Whispers. Don't miss out. Let's get it started . . .
The Jets are three point underdogs against the Philadelphia Eagles.
The Jets are 8-5 and the Eagles are 5-8.
That is kind of insulting.
Rex Ryan was asked about this on Wednesday, and said he doesn't care, because he's not into the whole gambling angle.
Ryan can downplay this all he wants publicly, but you know there is a good chance he uses this as motivation during a speech to the team – coaches love to motivate by using disrespect.
However, keep one thing in mind – when Vegas makes a road team a three point underdog, they are saying the game is a toss-up. Vegas always gives the home team three points when making lines due to a home field advantage . . .
One rallying cry from Rex this week is the Jets have never won in Philadelphia. But keep in mind, they haven't played their since 2003. This stat is irrelevant – there is nobody left in the building from that team, but Rex clearly likes the angle  – "let's make history, let's be the first Jets team to win in Philadelphia . . .
Shonn Greene has been on a roll the last three weeks, averaging around 100 yards per game.
Rex always says this, and it's so true, a back built like Greene, around 225 pounds, with a low center of gravity, is a good weapon to have late in the year. He can take a licking and keep on ticking, as the old Timex commercials used to say.
One thing is so clear, and you saw this last week against Kansas City, when a team is out of it like the Chiefs, some of their defenders want little to do with tackling a Braham Bull this time of year. They are beat up, have little play for, it's cold, and they want to get out of the season healthy.
Rex also said today that bigger backs get less dinged as the season progresses, and the little backs are often worn out this time a year.
This might be true, but then a minute after he said it, he was raving about LeSean McCoy, and rightfully so.
McCoy, who leads the NFL in rushing, is a little over 200 pounds – a smallish scatback.
And he's lasted fairly well.
So while Rex made a solid point, I don't totally agree.
The super-tough Greene is always taking on tacklers, often running them over and breaking tackles.
Super fast, undersized backs like McCoy or Chris Johnson, avoid a lot of flush hits because they have such great laterally quickness, it helps them avoid big-time hits.
Greene is playing with bruised ribs.
Rex is right – it's great to have a big back this time a year to wear out defenses.
But as far as them having more durability, that is debatable.
Just ask Earl Campbell . . .
There has been a lot of talk this week about how the pass rush threat the Eagles present is akin to what the Jets dealt with in Washington.
Not really.
The Eagles pass rush is better.
Jason Babin and Trent Cole is a better tandem than Ryan Kerrigan and Brian Orakpo.
The Washington duo is overrated.
Babin and Cole have two of the great motors in the league, and a lot more experience than Kerrigan and Orakpo. In other words, Babin and Cole have a lot more in their pass rushing bag of tricks . . .
More Website Whispers by 8 pm Thursday evening.
---