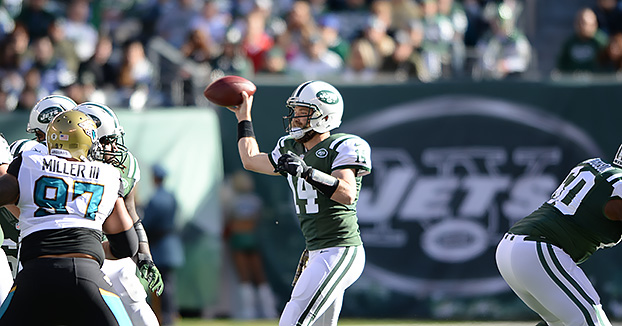 Boca Raton – On March 11, the Jets had quarterback Robert Griffin in for a visit.
They were kicking the tires, so to speak.
So what does Todd Bowles think of the former Washington Redskin?
"He's a good player," Bowles said. "He could throw the ball. He got injured, I know that much. I saw all the plays from a couple of years ago, and he played pretty well, and then when he came back, he didn't play as well for whatever reasons, I don't know. You will probably need to ask [The Redskins]. We had a good visit when he was here."
Perhaps the change of offensive systems hurt Griffin. In 2012, under coach Mike Shanahan, Griffin was NFL Offensive Rookie of the Year. He was banged-up in 2013, and then Jay Gruden took over as Redskins coach in 2014, and Griffin didn't seem to play as well with the new playbook. And then he was benched in the summer of 2015.
"Sometimes you change certain schemes, it takes a minute – that's not to say, it's good or bad, just the fact the scheme was different, and I don't know what was going through his head at that time," Bowles said.
Griffin, who has had myriad knee problems, was examined by a Jets doctor during his trip to Florham Park.
"He took a physical – he was fine," Bowles.
If Ryan Fitzpatrick doesn't re-sign, Griffin could be a fallback option for the Jets, but it looks like the Cleveland Browns are very interested in the signal-caller.
"He's had success," Browns coach Hue Jackson told Cleveland.com. "Obviously unquestionable success. His first year he was (NFL Offensive) Rookie of the Year. There's a reason he was drafted in the first round, second player. Ability. He's intelligent. He's got a lot of characteristics that you look for."
"We had a good visit (with Griffin III) and we'll continue to have some discussions internally and see where it goes," Browns VP Sashi Brown told Cleveland.com.
It sounds like the Browns are closer to doing something with Griffin than the Jets.
To subscribe to the monthly Jets Confidential Magazine, click below, or call, 800-932-4557 (M-F, 9-5)
---