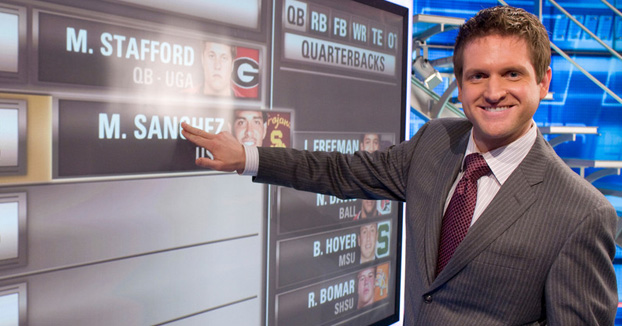 It's time for some Website Whispers. Enjoy!
Be prepared.
This reporter is going to break a big chunk of these stories.
This person has spent the lockout being very, very nice to players, agents and Jets management on twitter.
And this is going to lead to a bonanza when it comes to breaking stories.
I'm not saying this with any bitterness or rancor, just keeping it real.
There has been a lot of placating on twitter by this scribe, and the person is going to reap the benefits once the NFL is open for business.
There is a game plan at work here.
It works for Jay Glazer and Adam Schefter, and it's going to work for this guy.
Just watch . . .
The powers that be at Suny-Cortland, and business owners in that small Central New York city, have to be very nervous right now.
The Jets held training camp in Cortland the last two summers, and it was great for the school (publicity) and local business owners (millions of dollar brought in during a normally slow time for them – August, when school is closed).
If the lockout lasts a couple of more months, perhaps the Jets decide to save money and train in Florham Park.
Actually, we think the reverse is true. If the lockout lasts until July, the Jets will need Cortland more than ever.
This off-season has been a waste as far as conditioning, teaching and building team chemistry.
If the lockout ends before August, Rex is going to need Cortland more than ever – three weeks of isolation, with little distractions, to give his team a crash course with intense, focused preparation for the 2011 season . . .
Braylon Edwards' upcoming DUI trial is a blessing in disguise for the Jets financially. Don't get me wrong, I'm not promoting driving under the influence, but this indescretion will cost Edwards in the wallet, once the NFL is opens for business, and the Jets sit down to negotiate his contract.
Woody Johnson said as much right after the incident happened. He said it on-the-record.
Edwards has made it clear he wants to stay with the Jets.
Considering his talent level, the Jets are going to get this guy at a bargain price, perhaps $5 million a year. The DUI and Cleveland night club fight are going to help keep the price down . . .
After doing a lot of research on Jeremy Kerley, I think this guy is going to be a fifth round steal. He slipped because of his forty time, which is around 4.6, which isn't great for a 5-10 (a little under), 189 pound receiver.
For a big receiver like Edwards that forty is okay, but not for a little guy.
However, there is a different between speed and quickness – sometimes people confuse these categories, and merge them togetherr.
They aren't the same.
Kerley has great quickness, and uses it to get open out of the slot, and also made people miss as a punt returner. This guy might be the best punt returner in the draft.
Do you think slot legends Wayne Chrebet and Wes Welker had and have great speed? Absolutely not.
The position is so much more about quickness and route running than speed. How often do slot receivers run 50 yards down the field? Not often.
Kerley was also a quarterback in high school, and was used a number of times in college as a Wildcat QB.  So this will come in handy as well.
Kerley was a very productive player for four years at one of the nation's top programs.
My gut is this guy is going to be a heck of a fifth round value.
---