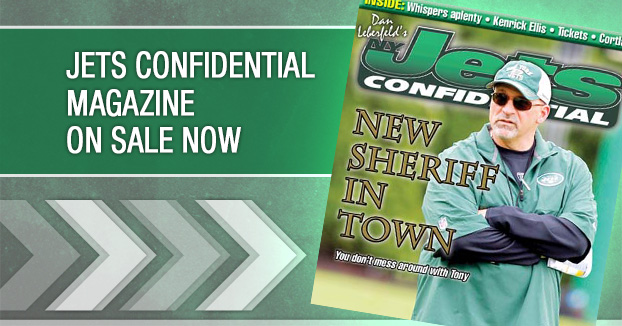 The Jets visit Miami in Week Three, very early in the Dolphins' transformation process.
There are a lot of new faces in Miami, and this year could be ugly, especially early.
Perhaps people have Miami Dolphins owner Steve Ross all wrong. Maybe the perception out there is off-the-mark.
It has been assumed that Ross is a hands-on meddler who is always looking to make a big splash.
But considering how the Dolphins have handled their business this year thus far, he might be getting a bum rap.
First of all, he hired a head coach, Joe Philbin, who wasn't exactly an A-List candidate, and not the kind of guy who is going to sell a lot of tickets.
Secondly, when they drafted quarterback Ryan Tannehill in the first round, people assumed that Ross would force the football people to start him. Not happening. The kid is not ready, and Ross is going to allow the football side to take it slow with him.
Veterans David Gerrard and Matt Moore will battle it out for the starting job.
Ross also didn't listen to fans and reporters demanding that Jeff Ireland be fired, including one fan who hired a plane to fly over Sun Life demanding the GM get the boot.
Ross has it from two pretty two good authorities – Carl Peterson and Bill Parcells, that Ireland knows what he is doing. Ireland worked for both of these long-time respected NFL figures.
Ross also allowed his football people to trade the team's top receiver – Brandon Marshall – because he's a pain in the butt, and had yet another off-the-field incident early this year.
In other words, Ross, is willing to sacrifice a little at the gate this year, to build a winner the right way. He's not the puppeteer people have accused him of being.
The Dolphins would be nuts to start Tannehill this year. While you have to love his size, speed, arm-strenght, intelligence and work ethic, he's a project. Remember, his first two years and change in college, he was a wide receiver.
He has a tendency to telegraph his passes and needs work on his pocket presence and mechanics. It might even be ideal for him to sit for two years.
Whoever the quarterback is, on paper, the Dolphins targets in the passing game aren't exactly going to keep you up at nights.
The Dolphins receiving corps right know is headlined by Davone Bess, Brian Hartline, Legedu Naanee, Roberto Wallace and 34-year-old Chad Ocho Cinco.
The tight ends are New Jersey's Anthony Fasano and third-round pick Michael Egnew (who has great wheels for a 6-5, 252-pounder).
Philbin came over from Green Bay where he was offensive coordinator, so expect the Dolphins to run an attack where they spread the ball around to a lot of different targets. Last year in Green Bay, the tight ends grabbed 67 passes and the running backs caught 63 passes.
Actually running back might be the Dolphins strongest position on offense with Reggie Bush, Daniel Thomas and speedy draft pick Lamar Miller. This is a nice stable with the speedy Bush, the powerhouse Thomas, and Miller, who combines both skillsets.
While it could be very hot when Jets go to Miami in Week Three, it might be a good time to get the Dolphins as they try to get on the same page with new coaches and playbooks.
July 7, 2012
(Premium will return on MONDAY at 9:30 pm.(
---