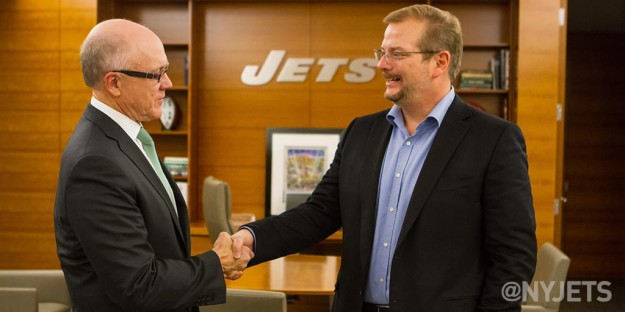 New Jersey – This isn't to say the Jets signing of Darrelle Revis was a bad move, but you have to wonder about the price tag a little bit . . .
When you take a closer look at the situation, it looks like the Jets were bidding against themselves.
Darrelle Revis can talk about the decision being about his heart, but he certainly has a heart of gold after landing a 5-year, $70 million deal, with $39 million guaranteed.
I do think he's happy to be back with the Jets.
But they were also the only teaming willing to pay him close to what he wanted.
You talk to league sources familiar with New England's thinking, and it's pretty apparent that they weren't going anywhere near the kind of money Revis' landed from Gang Green.
But you get the sense, they pretended to stay in the running, all the way up to the 11th hour, to drive up the price, and hurt the cap situation of a division rival.
I'm telling you, when they heard the kind of money Revis was looking for – the target of $40 million guaranteed, they were out of the sweepstakes. But they pretended they weren't out.
Who has a better poker face than Bill Belichick?
And then you heard this bull, late in the game, about the Buffalo Bills being interested.
What a crock that was.
That was clearly people in the media helping out the agents.
After giving Shady McCoy and Jerry Hughes' big deals, and with their infatuation with Dolphins tight end Charles Clay, who they are still courting as we speak, where were they coming up with $39 million guaranteed for Revis?
The Bill interest was bogus.
Obviously Rex Ryan would love to him have, but it wasn't pragmatic from a salary cap standpoint for the Bills.
I don't understand why some of these national insiders allow themselves to be used as pawns by agents.
Perhaps they get good info in return.
Another rumor, likely driven by the agents, was Kansas City being interested.
Look at Andy Reid's history in Philadelphia. He almost never paid older free agents big money. And one time he did, giving 30-year-old cornerback Nnamdi Asomugha big money, it didn't work out very well. Reid was constantly moving on from older Eagles and going younger.
A rumor was started that the Chiefs were interested because Bob Sutton is there.
There is no way the Chiefs were going to spend that kind of money on Revis.
So most of the "interest" was white noise created by the agents and their NFL insider friends.
I'm sorry folks to break this to you, but the Jets were likely bidding against themselves.
And if they had realized that earlier, perhaps they could have saved a couple of million.
But it seems they were so desperate to get Revis for PR and football reasons, they basically gave him what he wanted
Perhaps they saved a little off the $40 million guarantee that he wanted.
But not much.
March 12, 2015
Premium will return by 9:30 pm on Friday.
Premiu
---