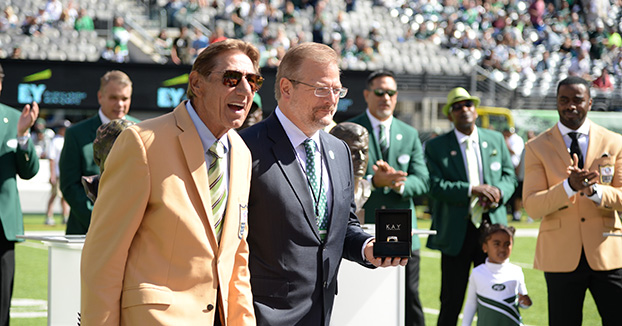 This isn't Chuck E. Cheese, it's the NFL.
Former New England Patriot DE Cassius Marsh said he "hated" his time in Foxboro last year. He added "there's nothing fun" about playing for the Patriots.
Philadelphia Eagles OT Lane Johnson has said similar things, even though he's never played there.
I've been in a number of New England post-game locker rooms after Patriots wins, and the players seemed very happy.
Since 2000, they have won five Super Bowls, eight AFC Championship Games and fourteen AFC East titles.
"When you lose, it's not fun," said Patriots safety Devin McCourty. "People get fired. You lose your job. That's not fun. So I wouldn't believe anyone who told me if they only won half their games, and were having the best time of their lives. We have a couple guys here from Cleveland who went 0-16. They told me that wasn't fun. So I'm going to try to stay on this side of it."
Winning is fun.
Jets fans would love to have a 13-3 or 14-2 record like the Patriots did the last two seasons.
And I can assure you Jets fans aren't concerned with whether the players have fun at work.
These attacks on New England's modus operandi (M.O.) are foolish.
*****************************************************************************
THERE ARE THREE DIFFERENT OPTIONS AT JETS CONFIDENTIAL!
*We have a monthly print magazine delivered to your mailbox every month year-round loaded with great Jets info for just $39.95 (includes a free Jets player calendar – limited time offer).
*We have Dan's Jets Website Whispers Monday-Friday on this website, All the good stuff from One Jets Drive, M-F, year-round. This is different content than the monthly magazine, and it's just $7.95 a month.
*And for $74.95, you can get "The Whole Enchilada" – the monthly magazine and the Monday-Friday Website Whispers.
Click below to subscribe.
---